A BRIEF VEILED CHAMELEON CARESHEET
For more in depth information and recommendations, please visit RAISINGKITTYTHEVEILEDCHAMELEON.blogspot.com
Cage:
Both glass and screen cages are available, but a vertical mesh or screen cage is recommended. Veiled chameleons are arboreal, and prefer high, vertical space so they can climb. Cage sizes vary. A 16x16x20 is fine for babies, but even juvenile veiled chameleons benefit from a taller cage. An 18x18x36 to 24x24x48 inch, or similar size, is best for adults. The mesh or screen cages are recommended for airflow, and to prevent overheating of the enclosure. Cages can be purchased from Chameleons Northwest, orat your local pet store, online, or at a local reptile show. Or, the cage can be hand crafted from wood, plastic, or metal.
Plants for the cage:
A good sized plant or 2. Most recommended plants are Schefflera and/or Ficus. Pothos is also a safe plant, but be sure to avoid Philodendron (which looks similar but is highly toxic). All 3 plants pictured below are normally available in a good cage sizes at Home Depot or Lowes. Mature Schefflera offer good vertical and horizontal support for adult chameleons. Ficus are normally more flimsy, but are fine for smaller or lighter animals. Also provide some additional horizontal perches (across different levels of the cage) using reptile vines from the store, or clean sanitized sticks. It is best to keep the plants up off the actual floor of the cage, so their pots can drain, by resting them on a plant stand or other support. Keep your plants well watered and fertilize with organic liquid fertilizer regularly. Below are photos of a schefflera, a ficus, and a pothos.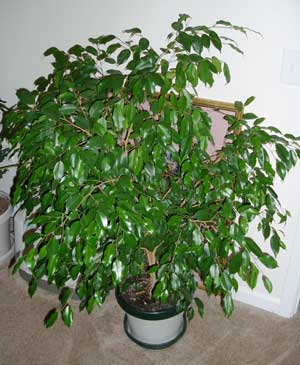 DO NOT USE A SUBSTRATE ON THE BOTTOM OF THE CAGE. THE CHAMELEON CAN ACCIDENTALLY EAT IT AND ITS INTESTINES CAN BECOME IMPACTED, LEADING TO DEATH OR A HEFTY VETERINARIAN BILL. IF YOU MUST PLACE SOMETHING ON THE FLOOR OF THE CAGE- USE PAPER TOWELS. ALSO, DO NOT USE WATERFALLS, AS THEY BREED BACTERIA.
Lighting and heat:
All lighting should be placed outside the cage. Timers can be used to automatically turn lights on and off. The lights should run for 10-12 hours a day, depending on the time of year. The lights-on and lights-off time should be, roughly, the sunrise and sunset times in your area (although you can fudge on this a bit). A fluorescent UVB light and an incandescent basking bulb are necessary for chameleon health and happiness.
Your chameleon needs a UVB light for calcium absorption. We recommend Reptisun 5.0 long TUBE shaped bulb (NEVER use a compact fluorescent coil shape bulb- they cause blindness and death in chameleons). The length of the bulb and fixture depends on the size of the top of your cage. A highly recommended bulb is the Zoo-Med Repti-Sun 5.0 for cages up to 36" tall, or the Reptisun 10.0 UVB bulb for cages 48" tall or taller:
Your Veiled chameleon also needs a basking light, with temp at the basking spot about 90-95f. Basking is necessary for proper metabolism, food digestion, reproduction, etc. Ambient temp in the lower cage should be mid 70s. We recommend a reptile 50 to 100 Watt basking spot bulb in a dome fixture, such as:
The metal dome clamplight fixtures, for holding the bulbs, are cheapest at Home Depot.
WATER, HUMIDTY, AND HYDRATION:
A pump sprayer, such as those sold at hardware stores, is recommended for daily misting. For a Veiled chameleon, misting should be done 2 to 3 times a day, using a fine mist of warm water. Misting twice a day (morning and evening), while leaving an automatic dripper running between mistings, can be adequate. For the first misting of the day it is good to mist the chameleon until you see it drinking. Misting the chameleon's actual head and body occasionally will help, as well. Allow some of the mist to fall onto the area of the eyes, especially, as the chameleon needs to clean its eyes regularly. It is best to do the final misting of the day at least 2 hours before lights out so that your chameleon doesn't go to sleep wet or in a wet enclosure. The first misting of the day should be after lights are on and the chameleon has had a chance to warm up.
Humidity is necessary for your chameleon's health, as well. A humidity level from 45% to 65% is recommended. Raising humidity to these levels can be done using one of these or a combination of these products: spray bottle, pump sprayer, dripper, automatic mister, fogger. A simple way to increase humidity is by adding more plants to the cage to create dense foliage. More leaves and branches means more water retention when you mist, which leads to more water evaporation throughout the day and higher humidity.
| | | |
| --- | --- | --- |
| Zoo Med Big Dripper | Home Depot Pump sprayer | Exo Terra Monsoon Rainfall Misting System |
| | | |
FOOD:
Gutloaded crickets, silkworms, hornworms, superworms, and cockroaches are thought to be the easiest feeders to keep and/or breed. It is best to give a variety of insects, at least alternating occasionally. Gutload your bugs with store bought cricket gutload (or make your own from an online recipe), and romaine lettuce, carrots, and potatoes. Do not gutload with spinach, as it interferes with chameleon calcium absorption. Keep the dry food and the wet food separate in your feeder bug containers in order to avoid grain mite infestation. For notes on supplementation and "dusting" the feeder bugs see "SUPPLEMENTS" below.
SUPPLEMENTS:
Even with proper gutloading of the feeder bugs your Panther chameleon still needs additional vitamins and minerals. We recommend these 3:
Miner-all (O) (red topped canister) by Sticky Tongue farms LIGHTLY dusted on feeder bugs at every other feeding. The Minerall (O) is calcium supplement WITHOUT D3 added.
Miner-all (I) (yellow topped canister) by Sticky Tongue farms LIGHTLY dusted on feeder bugs once a week. This is calcium supplement WITH D3. The helps draw the calcium into the bones. But you donít give it often because the chameleon can overdose on the D3.
Reptivite by ZOOMed LIGHTLY dusted on feeder bugs once a week at first and then when he is about a year old, once every 2 weeks.
BONDING:
In addition to caring for your chameleon's physical needs, there are emotional needs and self esteem issues you should be aware of. There are some easy steps you can take to give you and your chameleon the best shot at developing a positive, healthy, relationship. To give you an idea- here is one link about building a good relationship with your chameleon:
http://www.chameleonforums.com/how-get-my-chameleon-23658/